Thurston Moore & Loren Connors Collaborate on
Record Store Day Exclusive for Northern Spy
Thurston Moore and Loren Connors are relentless guitar gods. As long as their fingers can move, no force on the planet can stop them. On this exclusive record, entitled The Only Way To Go Is Straight Through, Thurston and Loren fearlessly dive into a hot, dark pool and enter a world of surging sound and faint lights. They can't see each other. They can only hear each others' searing notes in the heat. But it is enough to take them through.
 The material on The Only Way To Go Is Straight Through was compiled from two live recordings. Side A was captured at The Stone in Manhattan, where Moore and Connors performed on July 14, 2012 for the second annual Spy Music Festival (pictured above). The pair met up again on October 17, 2012 to headline Northern Spy's CMJ showcase at Public Assembly in Brooklyn (pictured below), and that mesmerizing set became Side B of this record.
While this was not the first time that Thurston Moore and Loren Connors have performed together, a vinyl pressing of their improvised collaborations is unprecedented. A mere three thousand copies of this extraordinary LP will be available worldwide ONLY on Record Store Day (April 20th, 2013). The music will not be available in any other format, on any other day, so we think it will be well worth braving the insanely long RSD lines to get your hands on a copy.
Album Details:
 Artist: Thurston Moore & Loren Connors
Title: The Only Way To Go Is Straight Through
Catalog Number: NS 036
Format: LP
Barcode: 765573685794 Only available on Record Store Day at participating retailers
Street Date: April 20, 2013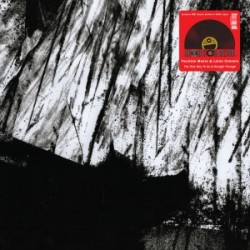 Cover image
 Track Listing:
SIDE A (21:15)
Manhattan, NY – The Stone – July 14th, 2012
SIDE B (22:59)
Brooklyn, NY – Public Assembly – October 17th, 2012
More About Thurston Moore:
While Thurston Moore is primarily known as guitarist and singer for Sonic Youth, he has also led an astonishingly prolific career as a solo artist and collaborator. From playing in Mirror/Dash (a duo with Kim Gordon) to running his own label Ecstatic Peace, he has remained busy with a myriad projects. Moore formed Sonic Youth in 1981 with Lee Ranaldo and signed to Neutral Records, a label run by Glenn Branca. The band's core consisted of Moore, Ranaldo and Kim Gordon (whom Moore eventually married) and throughout years the band featured numerous members in its line-up, including Jim O'Rourke, Jim Sclavunos, Bob Bert and Richard Edson. Outside of his work with Sonic Youth, Moore released a number of solo albums, as well as collaborations with the likes of Lydia Lunch, William Hooker, Chris Corsano, Nels Cline and many others. He was a part of Dim Stars, along with Richard Hell (Voidoids) and currently he's a a part of noise supergroup To Live And Shave In LA, which also includes Andrew WK, as well as members of Pussy Galore, Half-Japanese and Sightings.
More About Loren Connors:
Guitarist Loren Connors was born in New Haven, Connecticut in 1949. Best known as a composer and improviser, Connors has issued over 50 guitar records on his own imprints (Daggett, St. Joan, Black Label) since the late 1970s and over two dozen on other labels across the globe. He has recorded under the names Guitar Roberts, Loren Mattei, Loren MazzaCane Connors and other variations. Connors' singular adaption of the blues is a distinct personal vision combining the Delta bottleneck sound and the ancestral blues voice (appearing as distortion, baying hounds or multi-tracked guitar), with hauntingly unexpected sounds. Outside of Connors' three decades of solo work, he has collaborated with Suzanne Langille, Jim O'Rourke, Darin Gray, Alan Licht, Christina Carter, Keiji Haino, San Agustin, Jandek and many others, as well as leading the group Haunted House. He lives in Brooklyn, NY.